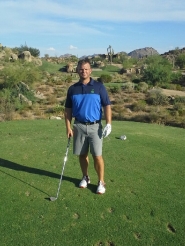 Real Estate Agent- Trademark Realty Group
Welcome to Palm Coast Golf Living. My name is Brian. I am a licensed Florida Real Estate Agent and golf enthusiast(aka FANATIC). I created Palm Coast Golf Living for two reasons: The first was so that I, as a licensed Florida Realtor, can assist others who are looking for a local real estate expert to assist them with buying or selling a home. I have lived in Palm Coast for over 25 years and have golfed here for 20 of them. I know and love this area. I know and love the golf courses/communities in this area. And whether you are an avid golfer or have never picked up a club before in your life, I would love the opportunity to help you sell a home or find a home that fits you to a tee(pardon the obvious pun).
The second was to create a place for local golfers to keep up with everything that is going on in our amazing Palm Coast Golf Community. We will feature Upcoming Tournaments, Charity Events, Weekly Game Results, Local Player Interviews, and much more(See the local golf news section).
Ok, I'll admit it, there was a third reason. As an extremely dedicated real estate agent, it is only right for me to occasionally join my customers to play the courses in the communities that they are considering living in. You know, to guide them hole by hole through the experience, answer questions about the course, etc. As a matter of fact, I think my wife would even understand why I was playing so much golf.